The Icarus range. Named after the soaring mythical Greek character, the label is a reflection of the mountain peaks that surround the estate, the Lategan family's passion for flight, and the driving pursuit of excellence that pervades Bergsig's wines, from vine to bottle. The Icarus blends represent the pinnacle of blending craftsmanship in the Bergsig wine portfolio.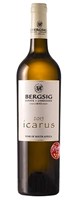 Rich, creamy full-bodied blend of Chardonnay, Chenin Blanc and Riesling in perfect harmony. Fermented and matured in 300 Litre oak barrels to create a wine with balance between fruit and spicy oak flavours.
read more »
Cabernet Sauvignon and Touriga Naçional in perfect harmony, opulent plums and black cherries with cigar box and vanilla. Vibrant and elegant with beautiful weight and length, leaving you with a lasting impression.
read more »